Are you sick and tired of feeling sick and tired? This program by Rochelle Rice is focused on empowering YOU to gain the skills needed to free yourself from the diet mentality and begin to trust yourself again.

Breathe and Eat © is NOT a diet program. Believe it or not, your body is hardwired for health. This program will provide the structure and foundation necessary to let go of the chaos and drama created by the mind.

Watch Rochelle's introduction to mindful eating and learn what it could be like to stop fighting yourself when it comes to food.




"If you've ever beat yourself up over unhealthy choices, if you've ever struggled to commit to a diet regimen or lose weight, if you've ever felt hopeless or overwhelmed by the breadth of information out there--- THIS PROGRAM IS FOR YOU.

I will show you exactly how to create the correct environment for you you to eat mindfully, and to create a more peaceful relationship with your food."

— Rochelle Rice
Six week program comes with six video lessons plus a guidebook.
BONUS:
Purchase by Wednesday, May 20, 2015 at 6PM ET
and receive six complementary teleclasses with Rochelle!
The teleclasses will be held six consecutive Wednesday's at 7PM ET.
All classes will be recorded and available to listen to if you miss any class.

Teleclass dates are: May 20, 27, June 3, 10, 17 and 24, 2015.
Find out more and purchase the program at BreatheAndEat.com
ROCHELLE RICE: EMPOWERING WOMEN THROUGH MOVEMENT on DIGITAL DOWNLOAD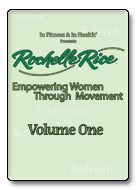 Rochelle's 45 minute exercise video is done in a seated position with an emphasis on technique and the application to daily activities. The video is designed for beginners or those who have been inactive for a long time. It provides a foundation for embracing a lifestyle of movement.

"I began using your video while suffering from mononucleosis and was very frightened with a new diabetes diagnosis. The personal note that accompanied my video was so nice, so supportive, and the video itself showed me the way to gently begin movement. I am SO much better! After only 2 1/2 months, I have lost many pounds and inches, I have my diabetes under control, and I have had no problem with ketoacidosis. THANK YOU for your wonderful work!"
Marcie Bugni, age 60
Missoula, MT
Available as a digital download for iPod, iPhone, iPad & iTunes, as well as any computer that can play Quicktime files!
Sold securely via PayPal for $4.99

$1.99 on sale

via the link to the right
(Credit Card orders accepted, registration not required).
See below for a preview and a full decription of the video.


HEALTHY NOT SKINNY DVD VIDEO SERIES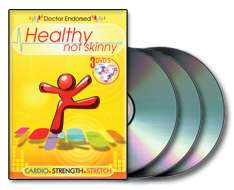 This revolutionary "Healthy not Skinny" exercise series was designed for non-traditional body types. With no pressure, you now have the opportunity to move from Beginner to Intermediate to Advanced, all at your own pace, in your own home. The 3 easy to use DVD's included in this program allow for optimum health.
The 3 DVD set is available for $29.97 $19.97 plus $5 shipping in the USA.
Available through secure transaction at PayPal (Credit Card orders accepted, registration not required) using the buttons up to the right.
Cardio
Ascend into health! No more worries about using machines that don't fit your style. With the Healthy not Skinny cardio video, your only challenge is when to actually enjoy the new moves you will learn. A routine of walking, stepping and easy bending are offered to provide you with a maximum output and minimum effort.



Strength
Empower yourself! The Healthy not Skinny strength video will boost your energy as you learn proper weight lifting techniques and build endurance. Take action to improve your muscle function as you burn calories and build self-esteem with this exciting easy routine.




Stretch
Tone up! The Healthy not Skinny stretch video becomes your personal trainer to provide a core workout for overall balance and coordination. Incorporating an inspiring approach to one-on-one instruction, this video provides specific techniques for the flexibility that your body requires for harmonious movement.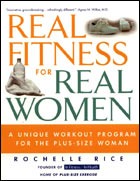 REAL FITNESS FOR REAL WOMEN

Warner Books original Trade Paperback, February 2001, 134 pages.
A breakthrough exercise solution that thousands of plus-size women are talking about. In just one session a week, certified fitness instructor Rochelle Rice takes you through a series of special routines that can boost your metabolism, lower cholesterol and blood pressure, and make your body more firm no matter what you weigh. You will feel empowered, not pressured energized, not exhausted.
Rochelle's book outlines her successful movement program with easy-to-follow photos, motivational tools, and personal stories from her current clients. The book also includes ideas for getting started, creating support and maintaining an active lifestyle. It is designed to assist you in creating a successful and achievable movement program as a foundation for an active lifestyle.
Available from Amazon.com in paperback and for Kindle.